The instruments I use most are made by Ron Phillips, a brilliant independent craftsman from Northern California.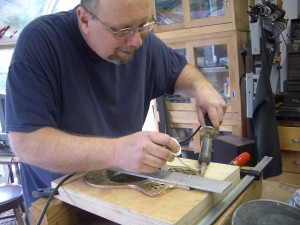 I met him in the early '90s and asked him if he could make a parlor sized resonator with access to the 14th fret. I think he's close to perfecting the design! They are made of alloy 752 (nickle silver) and he spins the cones from a Secret Alloy (which he didn't tell me, since I can't keep a secret). They sound sweet rather than brassy, they have plenty of volume but not too much clang. Visit his website at www.metalgitar.com
The first of three parlor sized single cones
The other instruments I use are a Kamaka 8 string Li'liu ukulele. I used it on "Why Say No? with the Yes Yes Boys and on At The Ukeshack #1 with Matt Weiner.