Here you'll find resources following up on various uke workshops.
If you have mp3s or youtube links you think would be helpful to others for  my tunes, send them to me and I'll post them here as well. You can also send me your tablature and corrections at delrey@delreyplays.com. The original tunes are for your use only-don't disseminate them as I don't have copyright.
Ukulele Daily!
Del Rey
You Run and Tell Your Daddy Lawd!
Charlie Jordon on guitar 1937:
Del Rey on uke 2007:
Up The Country
Barbecue Bob's version:
Del Rey's uke version of Up The Country:
Keep It Clean
Charlie Jordan:
and Del Rey's Keep It Clean on uke:
K.C. Moan
The Memphis Jugband:
Del Rey at The Jumping Flea in Rotterdam teaching the "uke jugband" KC Moan parts :

Rocking Chair Blues pdf
Rabbit Muse plays Rocking Chair Blues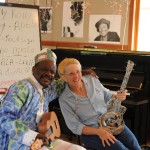 A few years ago at Port Townsend Blues Festival I invited Cheick Hamala Diabate to come teach the ukes something. I figured since his Malian style of guitar was often capoed way up it would translate in an interesting way to uke. He taught us to play "Apolo". Ukuleles really can play everything (at least as long as he was with us!)
Listen to Cheick Hamala play uke on Apolo:
Apolo

AN NY KONY KADY-APOLO

DENY-KOUN SIGUI KANYI APOLO

AN ALA LEENO ILA DIY ALATAN
(Thanks to George for the mp3 of the chic Cheick!)
Memphis Style Music for Ukulele
The jugband and blues styles of Memphis in the 1920s and '30s fit well on the ukulele. There are parts to get from the mandolin, the harmonica and even the guitar (!) Here are the originals for the tunes I've adapted from the MJB (Memphis Jugband), Gus Cannon, Frank Stokes, Memphis Minnie and Bo Carter that sit well on uke. To start, here's a great youtube playlist with a selection of my uke versions from various workshops, kindly complied by UK ukster Liz Panton.
Followed by original versions from Back In The Day…
Tapping That Thing MJB
Mississippi Waltz  MJB
Bottle Up and Go  MJB
Bottle Up and Go explained on ukulele

Bottle Up and Go lyrics (there's plenty more-or make some up!)
I love my baby, she loves me too

Don't give a goshdarn what she do

You gotta bottle up and go, beedle-um-bum

Bottle up and go, beedle-um-bum

Oh you high flyin' women,

Lord you gotta bottle up

I took my baby in the new V8

Step on the 'celerator don't make me late

You gotta bottle up and go, beedle-um-bum

Bottle up and go, beedle-um-bum

Oh you high flyin' women,

Lord you gotta bottle up

I'll tell my mama, tell my pa

Can't say yes but I won't say no

You gotta bottle up and go, beedle-um-bum

Bottle up and go, beedle-um-bum

Oh you high flyin' women,

Lord you gotta bottle up
You May Leave (Satisfied) MJB
I Don't Want That Junk- Memphis Minnie and Kansas Joe
Tired Chicken Gus Cannon
Tired Chicken explained on ukulele
Law's Gonna Step On You Bo Carter
Downtown Blues The Memphis Sheiks (Frank Stokes and Dan Sane)
Here is a video of me explaining the Downtown Blues uke parts slowly-thanks to the Oxford Ukulele club.

Here are the lyrics (slightly modified by me)
Downtown Blues #2
Frank Stokes and Dan Sane

I'm going downtown gonna stay round there till dark (2x)
You don't like my treatment make you another stop

I don't drink whiskey crazy about my beer (2x)
I feel so good must be a brand new year

It's nine yards carry me to your back door (2x)
If the times keep tough I won't make that trip no more

When you lay down at night you go to sleep and try and take your rest (2x)
You get the call 4:45 wake up great god and try and do your best

What makes me know my good gal likes me so (2x)
She always takes her time does her work everywhere she goes.
Fingerpicking a fiddletune  using re-entrant tuning:
Here's a tune from Walt Koken and my chart for playing it on uke. I take it slow-the numbers at the bottom of each chord shape are the right hand picking order. Slow uke version:
and here's the original by Walt Koken (sorry about the kid noise; I recommend you buy his excellent album Banjonique on itunes for a kid-free listen!)  :
Mama Don't You Think I Know
Here's Papa Charlie Charlie Jackson's version, followed by my uke version.
 Rocks and Gravel by Mance Lipscomb
Rocks and gravel/Makes a solid road/A do right woman/Satisfy my soul
I got a gal up country/She won't come to town/Hot one in Corpus Christi/But she's water bound
I'm going out west/See my ponies run/If I win any money/Gonna give my baby some
That's your tone Daddy/Everytime you come/"Got no money-Certainly soon have some"
"Here's my dollar/I made it in the rain/It's my last old dollar/You can spend it just the same"
"I'm going to New Orleans Daddy/Buy a new pair of shoes/You'll find me on Trafalgar st/When your train comes through"
"I don't see why/You treat your daddy mean/Staying up all night /On that low down benzedrine "
Here's my version
Here's Mance's version